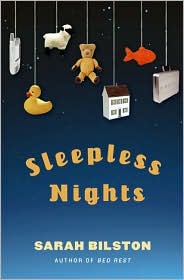 I want to start this review with a nod to Suzanne Williams who got this brand new book to me. I hope this is only the first of many review projects for the Shreve Williams publicity firm.
Sleepless Nights
is the follow up to Bilston's
Bed Rest
. In this novel, we pick up where
Bed Rest
left off, with Q and her newborn baby boy, Samuel. Bilston has accurately captured all of the anxiety and stress that new moms feel. The sleeplessness is only one facet of those early days of motherhood. Q has the unfortunate task of managing a new born baby boy who has colic, causing round-the-clock crying and screaming.
Bilston has changed up some elements of her storytelling style in this novel, by adding the additional voice of Q's sister, Jeanie. I have to admit that I don't usually like the chapter-by-chapter change of voice, but thanks to Jeanie's spunky character, I looked forward to her narratives.
There is a lot of plot in this novel, between the new motherhood of Q, the confuddled love life of Jeanie, and the small town attorney's office that Q and her husband become involved with. I was expecting this novel to be more focused on the aspects of being a first time mother with a colicky baby, but the true-to-life story addresses the fact that everyday life does not stop when a baby is a born.